A planned development suited for any style!
Celebration was conceived by Disney. I think its name is appropriate because it celebrates community. It is centrally located near Walt Disney World in Central Florida and has easy access from several major highways. It provides an easy commute to Downtown Orlando. Celebration's architecture blends traditional modern styles. It has a beautiful golf course and many other amenities.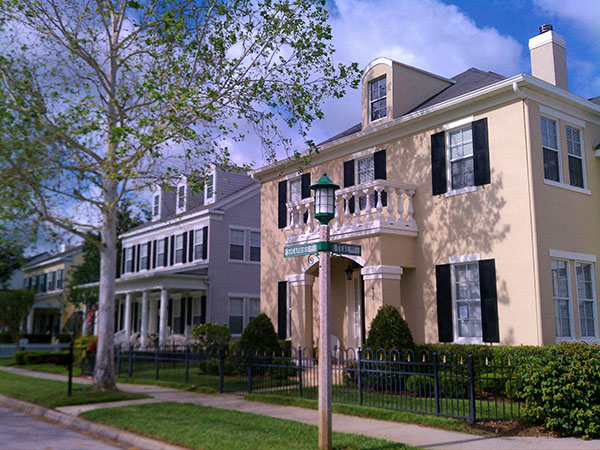 The planned development of Celebration is several villages to choose from, depending on your lifestyle. From Penthouse condominiums to front-porch living, there is a neighborhood to suit anyone's style.



Additional Information about Celebration Villages:
Celebration Village
This is the original village. Known for its small business district, as well as, residential areas. The neighborhood offers "urban" living with its downtown that features a large, heated neighborhood pool at Lakeside Park, basketball courts and a volunteer library.

West Village
Bordered by the Celebration Golf Course and the elementary school, this village is ideal for buyers who are looking for Cottages, Villas, and Estate homes.

Lake Evalyn
With the garden homes with beautiful lake view, it is located closed to downtown.

North Village
Located closest to the entrance to Celebration, this village offers townhomes, condos, and single family homes. It features a neighborhood park and pool and provides easy access to the major highways.

South Village
The home types are similar to the other Villages, and it also has what Celebration residents refer to as Terrace Homes. Its highlight is Spring Park, which features a large neighborhood pool, playground, and clubhouse.

Roseville Corner
Roseville Corner is a small village with free-standing duplex style bungalow homes. If you want to get away from the busy-ness of downtown, this is a little corner of paradise with its lovely rose bushes is for you.

East Village
It features homes in a variety of types, including townhomes and condominiums. It has a small neighborhood pool and tot lot. Its location is somewhat secluded and more quiet than heavier trafficked areas.

Aquila Reserve
This area features a variety of single family and Manor homes. (No condos or townhomes) It's surrounded by beautiful trees and wooded areas.

Artisan Park
This area was developed by Arvida. It features single family homes, townhomes, and condos. Best known for its exclusive clubhouse and pool. Other Villages are not permitted to use the clubhouse and pool. However, Artisan residents may use all pools and facilities throughout Celebration.

Spring Lake
A new construction developed by David Weekly Homes. There are four styles such as townhomes, villas, bungalows with gardens. It includes pool, fitness center. It's farthest from Downtown Celebration - still a great bike ride or a quick ride in the car.